Friday, May 20, 2005
Clean Cut For Certain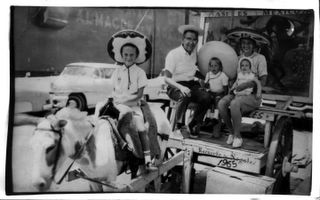 To stress a little more what Mr. Burnett wrote in the previous post, I'd like to tell you, Mrs. Nitsa's mom, that we have long been hard working and industrious fellas, not given to lay-about behavior or much intoxicating beverage. Mr. Burnett or, more precisely, Dr. Burnett holds a Doctor of Divinity degree from the Church of Universal truth located in Athens, Ohio. He has held that degree since the early '80's when he found the ad in the back of an old Argosy magazine in a barber shop. He paid the $3.00 and has been doing the Lord's work ever since.
I, Leo, am an heir to the throne of Ethiopia, making me the exiled King of Kings, Conquering Lion of the Tribe of Judah. I am the lad riding the royal Burro in the above picture. Need I say more?
Thank you for your gracious attention
Photo by unknown Mexican street entrepeneur, 1965

Comments:
Yes, I concur. When Leo says we're industrious, he's right on the money. Since 1978 our lives have been spent serving others, mostly the Amish. Only now are we looking to profit in some way from our labours.
My life was a shambles prior to meeting Leo. I was a slave to the corn likker and held a subscription to the Police Gazette. Often I feigned illness on a Sunday morning to escape attending church. Indeed, and when I did go, I cowered from His countenance.
Then Leo called me up and said, "Hey, Lion of Palermo? THis is Lion of Judah. Let's go downtown an' see what kinda troible we kin get in." The rest, as they say, is history.
Post a Comment
<< Home